Bloggers/Reviewers
Are you interested in hosting authors, books, giveaways, and more on your site?
Sign up HERE
to become a tour host today! All hosts that post are entered for our monthly giveaway.

Blog Archive

Need Tour Hosts:
Sunday, April 8, 2012
The Last Vampire-Revised Author's Edition
Author: Kathryn Meyer Griffith
Genre: Science fiction, Fiction, Paranormal, Thriller, Horror, Romance
Publisher: Damnation Books
Ebook
Words: 104,029


Book Description:

"The earthquakes, the global floods and the devastating fires arrive first. The human race, displaced and panicked, at first flees, migrating to any place there's food and shelter.

Then the worldwide plague arrives with its stench of death. And as mankind suffers and dies out, vampires, their numbers dwindling from the same sickness, struggle and fight fiercely among themselves to survive in a world where there aren't enough humans to feed upon. As the months go by they become fewer, more desperate and more ruthless. Emma, as the world disintegrates around her, finds herself alone, her family dead…and fighting off an unnatural hunger as she becomes one of the undead. Defying her unwanted destiny she's determined to resist the bloodlust she feels, the need to kill and feed on human blood, of losing her humanity, for as long as she can bear it…but she's so hungry…and the night calls."

Purchase:
Amazon
|
Damnation Books
2012 EPIC EBOOK AWARDS NOMINEE for her romantic horror novel The Last Vampire-Revised Author's Edition

Since childhood I've always been an artist and worked as a graphic designer in the corporate world and for newspapers for twenty-three years before I quit to write full time. I began writing novels at 21, over forty years ago now, and have had fourteen (nine romantic horror, one historical romance, one romantic suspense, one romantic time travel and two murder mysteries) previous novels and eight short stories published from Zebra Books, Leisure Books, Avalon Books, The Wild Rose Press, Damnation Books and Eternal Press.

I've been married to Russell for thirty-three years; have a son, James, and two grandchildren, Joshua and Caitlyn, and I live in a small quaint town in Illinois called Columbia, which is right across the JB Bridge from St. Louis, Mo. We have two quirky cats, ghost cat Sasha and live cat Cleo, and the four of us live happily in an old house in the heart of town. Though I've been an artist, and a folk singer in my youth with my brother Jim, writing has always been my greatest passion, my butterfly stage, and I'll probably write stories until the day I die.

Find the Author at:
Submit Your Book
We are looking for authors books to feature on our promotion site. This would be an excerpt (length up to you) book description, info, bu...

"I could not be more pleased by my total experiences in working with Holly on my book review tour. She went beyond my expectations, and best of all, I saw an increase in book sales and readership activity soon after the start of my book review tour. Holly's professionalism and the services she offers would be hard to beat at any price." -- Kimberly K. Comeau, author of Moons' Kiss, 2012

Follow FMB On Twitter

Grab Our Button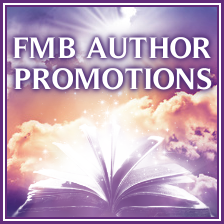 <div class="Full Moon Bites" style="width: 250px; margin: 0 auto;">
<a href="http://www.fmbauthorpromotions.com/" rel="nofollow">
<img src="http://i757.photobucket.com/albums/xx219/mcanderson11/FMB%20Button_zpsmnpbabik.png" alt="FMB Author Promotions" width="250" height="250" />
</a>
</div>