Bloggers/Reviewers
Are you interested in hosting authors, books, giveaways, and more on your site?
Sign up HERE
to become a tour host today! All hosts that post are entered for our monthly giveaway.

Blog Archive

Need Tour Hosts:
Friday, April 20, 2012
Witches-Revised Author's Edition
Author: Kathryn Meyer Griffith
Genre: Contemporary, Historical fiction, Fiction, Paranormal, Thriller, Horror, Romance, Suspense
Publisher: Damnation Books
Ebook
Pages: 278
Book Description:
"Amanda Givens is careful how she uses her powers. She doesn't want the people of Canaan, Connecticut to know they have a witch among them . . . even a good white witch. For years, she's lived quietly in a remote cabin with Amadeus, her quirky feline familiar. At first with her husband, Jake, the love of her life, until a car accident; but now alone after his death. But when she's wrongly blamed for a rash of ritualistic murders committed by a satanic cult, she knows she can no longer hide. She's the one the cult's after and she is the only one who can stop them and prove her innocence.

As punishment for fighting and destroying the cult, she's drawn back in time by the ghost of the dark witch, Rachel Coxe, who was drowned for practicing black magic in the 17th century.

Now, as Amanda tries to rehabilitate Rachel's reputation in an effort to save lives, as well as her own, and falls in love all over again with Joshua, her reincarnated dead husband from the future, she has to rely on a sister's love and magical knowledge, and a powerful sect of witches named the Guardians to help her get home safely."

Purchase Links:
2012 EPIC EBOOK AWARDS NOMINEE for her romantic horror novel The Last Vampire-Revised Author's Edition

Since childhood I've always been an artist and worked as a graphic designer in the corporate world and for newspapers for twenty-three years before I quit to write full time. I began writing novels at 21, over forty years ago now, and have had fourteen (nine romantic horror, one historical romance, one romantic suspense, one romantic time travel and two murder mysteries) previous novels and eight short stories published from Zebra Books, Leisure Books, Avalon Books, The Wild Rose Press, Damnation Books and Eternal Press.

I've been married to Russell for thirty-three years; have a son, James, and two grandchildren, Joshua and Caitlyn, and I live in a small quaint town in Illinois called Columbia, which is right across the JB Bridge from St. Louis, Mo. We have two quirky cats, ghost cat Sasha and live cat Cleo, and the four of us live happily in an old house in the heart of town. Though I've been an artist, and a folk singer in my youth with my brother Jim, writing has always been my greatest passion, my butterfly stage, and I'll probably write stories until the day I die.

Find the Author at:
Submit Your Book
We are looking for authors books to feature on our promotion site. This would be an excerpt (length up to you) book description, info, bu...

"I could not be more pleased by my total experiences in working with Holly on my book review tour. She went beyond my expectations, and best of all, I saw an increase in book sales and readership activity soon after the start of my book review tour. Holly's professionalism and the services she offers would be hard to beat at any price." -- Kimberly K. Comeau, author of Moons' Kiss, 2012

Follow FMB On Twitter

Grab Our Button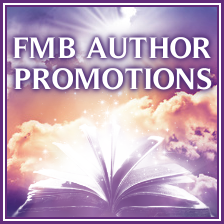 <div class="Full Moon Bites" style="width: 250px; margin: 0 auto;">
<a href="http://www.fmbauthorpromotions.com/" rel="nofollow">
<img src="http://i757.photobucket.com/albums/xx219/mcanderson11/FMB%20Button_zpsmnpbabik.png" alt="FMB Author Promotions" width="250" height="250" />
</a>
</div>