Wednesday, October 10, 2012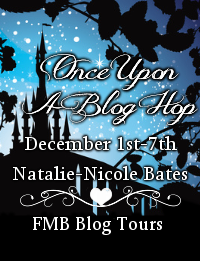 Natalie-Nicole Bates had a wonderful idea for a giveaway hop and luckily FMB Blog Tours gets to be a part of it and help out! :)
This blog hop is all about the fairy tales! They are usually the first books one start out reading when younger (Beauty and the Beast, Cinderella, Snow White, etc.) and even when we grow older they are still a huge part of our reading life.

Fairy tale re-telling's are in most all genres and they are especially big right now (Anyone watched that Snow White and the Huntsmen movie? Or Beauty and the Beast TV show?). You can find YA, Historical, Paranormal Romance, even Erotica, all of their sub-genres and more that are a version of a past fairy tale. This hop is in honor of them—because we all love a good fairly tale every once and a while!
**Grand Prize!**
Thanks to

Natalie-Nicole

there is a grand prize giveaway of a $100 Amazon Gift-Card!
HOP RULES:
Include this button on your blog/site with a link back to this post.

The Once Upon A Blog Hop is open to author and bloggers alike who want to participate and giveaway a book/eBook or related prize that follows the theme of the hop. [Fairy tales and fairy tale re-telling's]

Books can be m/f or m/m.

Once Upon A Blog Hop will run through December 1st - December 7th

Giveaway Hop posts need to go live by December 1st (any blog not posted on December 2nd will be deleted) and winners should be announced by 48 after the end of the hop.

Please specify if your giveaway is US, INT or US/Canada

Hosts are responsible for their own giveaway prizes.

HAVE FUN!
An email will be sent out before the hop begins with more details. Thank you all!
**AUTHORS: I have been getting a lot of questions about this so I decided to post it here. :) You do not have to have a book that fits this theme to be a part of this hop! You just have to giveaway a book [by any author, does not have to be you] or something book related that fits with the theme [you can even giveaway a gift card].**
Sign up below to participate in the Once Upon A Blog Hop!
__________