Friday, October 19, 2012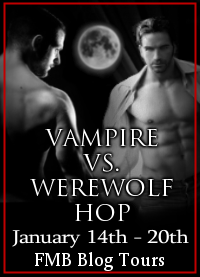 Vampires and Werewolves. They are two of the most well known and popular paranormal creatures today. Bones from Night Huntress (Chapter 32 anyone? *wink*) or Alcide Herveaux from the Sookie Stackhouse series, etc. This hop is all about the vampires and werewolves! Are you a vampire lover or werewolf lover?
If you had to choose would you cuddle up with your sexy dangerous vampire throughout the long nights or would you rather a sexy testosterone filled dominate werewolf that let out the most interesting of growls at *ahem* fun moments?
I have to admit it is a hard choice I know! I do so love both! But if you had to choose: vampires or werewolves?
HOP RULES:
Include this button on your blog/site with a link back to this post.

The Vampire vs. Werewolf is open to author and bloggers alike who want to participate and giveaway a book/eBook or related prize that follows the theme of the hop. [Vampires vs. Werewolves]

Books can be m/f or m/m. We love all of thoes vampires and werewolves! ;)

Vampire vs. Werewolf will run through January 14th - 20th

Giveaway Hop posts need to go live by January 14th (any blog not posted on January 15th will be deleted) and winners should be announced by 48 after the end of the hop.

Please specify if your giveaway is US, INT or US/Canada

Hosts are responsible for their own giveaway prizes.

HAVE FUN and find new books to read! :)
An email will be sent out before the hop begins with more details. Thank you all!
**AUTHORS: I have been getting a lot of questions about this so I decided to post it here. :) You do not have to have a book that fits this theme to be a part of this hop! You just have to giveaway a book [by any author, does not have to be you] or something book related that fits with the theme [you can even giveaway a gift card].**
Sign up below to participate in the Vampire vs. Werewolf!